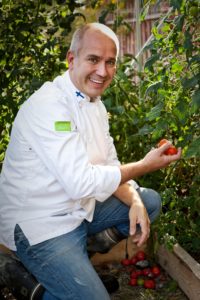 On 14 June, Dr. Jaakko Nuutila addressed in his panelists speech "The Transformation of Organic Food Systems" to the audience of the High level EU FOOD 2030 Conference in Plovdiv, Bulgaria.
Nuutila claimed that for the transformation of organic food systems, we need to understand that there's not one single phenomenon that does not interact with other phenomena, and that creates needs for multidisciplinary and holistic research, and wider approach.
This means, for example, completing sustainability with responsibility, which has more food-related principles; focusing on whole diets instead of only single food items; going to mainstream instead of staying apart; or promoting fairness that will provide livelihood for SMEs and by affecting the legislation for more applicable solutions. Common good can be also profitable, Nuutila stressed.
Jaakko Nuutila is a researcher at Luke. In addition, he holds a docentship at Kassel University and a Visiting Professorship at Warsaw University of Life Sciences, both related to organic food systems.
For more information, please contact Nuutila Jaakko.